Welcome to the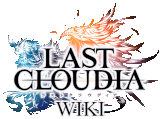 the
Last Cloudia
compendium by the players, for the players.
We are currently maintaining 2,188 pages (513 articles).
Please feel free to contribute by creating new articles or expanding existing ones.
Participate
Have a page you'd like to add to the Last Cloudia Wiki? Get started by giving your article a name and hitting "Create Page." Edits and improvements to existing pages are also appreciated.
Adding content

If you are unsure of what to do or how to create a page, search for a few articles on the same topic and see what they look like. You can always view the source code in a wiki and learn from what others have done.
An edit doesn't have to be massive; if you feel you don't want to create whole articles, then just fixing spelling errors and broken links is enough.
About
Last Cloudia is a free-to-play mobile RPG developed and published by AIDIS.
"

The tale of the bond between Man and Beast.

A world where humans and beasts coexist, Granzelia.

The war started by the God of Ruin has passed and humanity is now living in peace. However, things start to change when the 12th Division of the Knight Brigade was given a mission to rescue a young woman.

Kyle, a young hot-blooded knight, and Rei, a fearless beast boarded a skyship of the Empire.

What they didn't know was...

Their choices would change the world.

"
~ from the Google Play store page
The global version was released October 17, 2019 in the US and Canada.